This is a 3 ply yarn that I have spun on my T30 Jensen.
T30 Jensen wheel

It's a sport weight, and the size is ideal for Beth Brown-Reinsel's White Gansey. I washed the first skein, and swatched the yarn pattern for this gansey; and washed the swatch.
My swatch for Beth's White Gansey

Now, I don't know what to do. I am thinking that some of the patterning is lost. The roving that this yarn came from is from TwinBrooks, Knitter115 on ebay. She has angoras, and I can never resist! The roving is a wool/alpaca/mohair/angora blend. It is a rich heathery brown, with hightlights mostly of a reddish nature...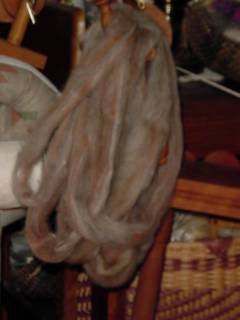 Twin Brooks Farm roving